Are you tired of fad diets and restrictive eating plans that leave you feeling drained and frustrated?


Do you want to learn how to fuel your body for optimal performance, without sacrificing your mental and emotional well-being?


The Mindful Muscles Academy program is here to help!


Through our comprehensive and supportive online course & community, you'll learn the principles of mindful eating and how to apply them to your unique fitness goals.


Your expert Dietitian Nutritionist will guide you through the process of cultivating a healthy, nourishing relationship with food,


while also providing the knowledge and tools you need to make informed, empowered choices about what you eat.


But listen... this program isn't just about the food you put in your body.


It's about creating a holistic, sustainable approach to health and fitness that nourishes your whole self – mind, body, and soul.


We'll help you develop the skills and habits you need to make lasting changes, without the guilt and shame often associated with traditional dieting.


Maybe you...


✦
Have tried numerous diets but most of them lead to obsessing and stressing about food
✦ Are ready to ditch calorie and macro counting... but fear not being able to stay on track without them


✦ Want to optimize your workouts for more muscle tone, energy and confidence...
✦ And.. maybe you ex
perience symptoms that keep you from showing up as your best self... like chronic fatigue, brain fog and mood swings that come out of nowhere
If this is you, you CAN...


✦
Eat the foods you love and STILL have a rockin' metabolism


✦ Honor your nutrition & fitness without letting it run your life


✦
Learn simple & effective strategies that support better workout performance, strength gains and other physique goals

✦ L
earn how to streamline your goals & healthy habits so you can take the fast track to success
✦
Break through the brain fog and finally feel like yourself again!




…without banishing carbs!
…without a low calorie diet
…without sacrificing the foods you love

…and without counting calories or macros all day long!!
Before mindful eating, I was in your shoes...




As a teen, I struggled with my own relationship with food and exercise. While I started with good intentions, it soon morphed into orthorexia and other disordered behaviors including over exercising and not allowing myself to eat anything but "healthy foods".


I spiraled into an eating disorder, and struggled for a long time on my own, until I reached a point one day where I looked in the mirror and knew things had to change. I knew that I deserved better. 

With the help of my support team - I healed my relationship to food and my body. My pain and struggle blossomed into something beautiful - it led be to my career as a Registered Dietitian! From that moment on, I knew then that it was my mission in life to help others heal their own relationship with food - so they didn't have to go through the same pain I did.
The Mindful Muscle's Academy's Non-Diet Approach Includes:
✦
How to form healthy habits that actually STICK!


✦
How to fuel your active lifestyle without dieting


✦ Flexible n
utrition protocol to help build muscle & improve workouts without tracking calories or macros


✦
Mindful eating skills & tangible practices to improve your relationship with food


✦
Journaling, affirmations & mindset shifts that will keep you successful, happy and fit LONG-TERM!
Introducing...
The Mindful Muscles Academy!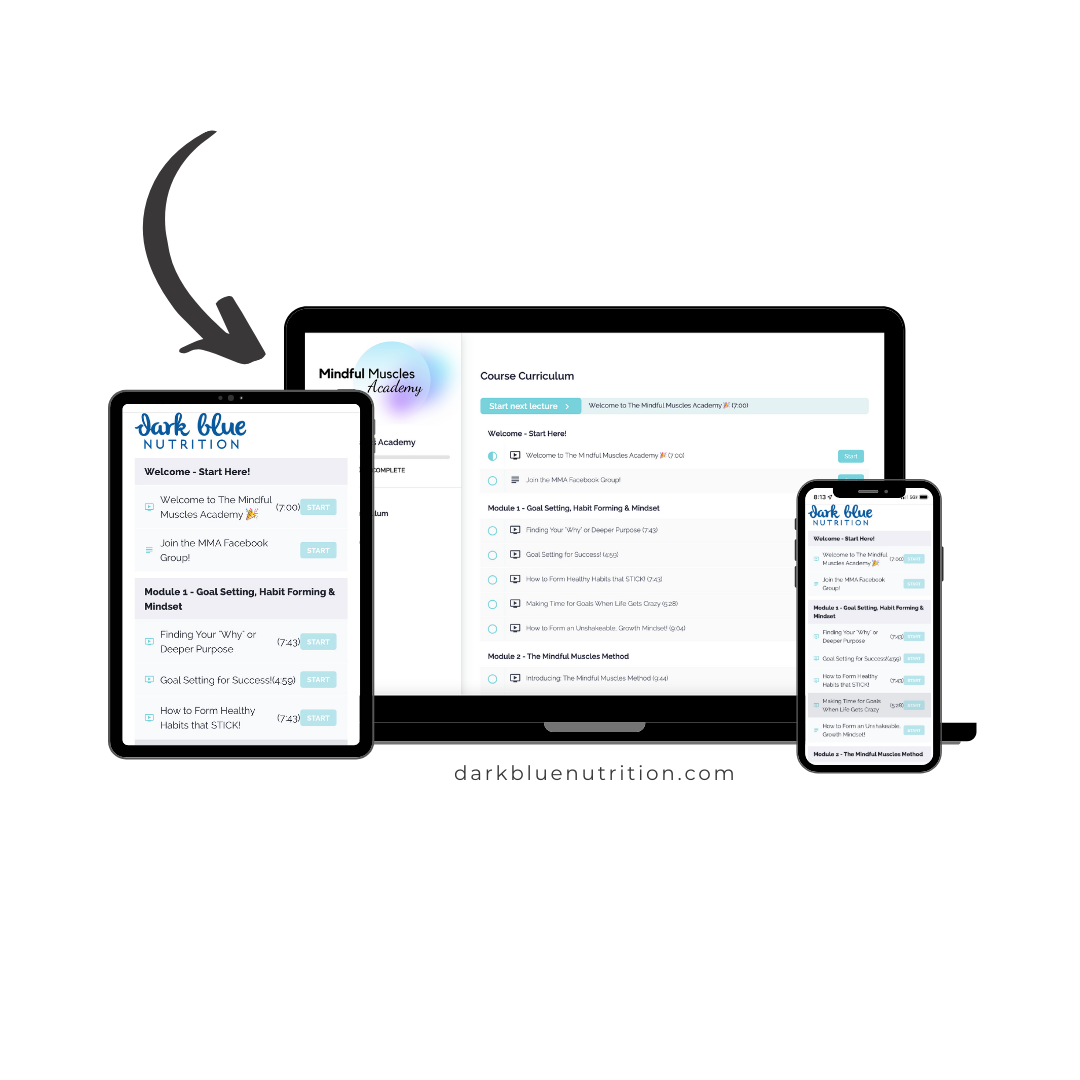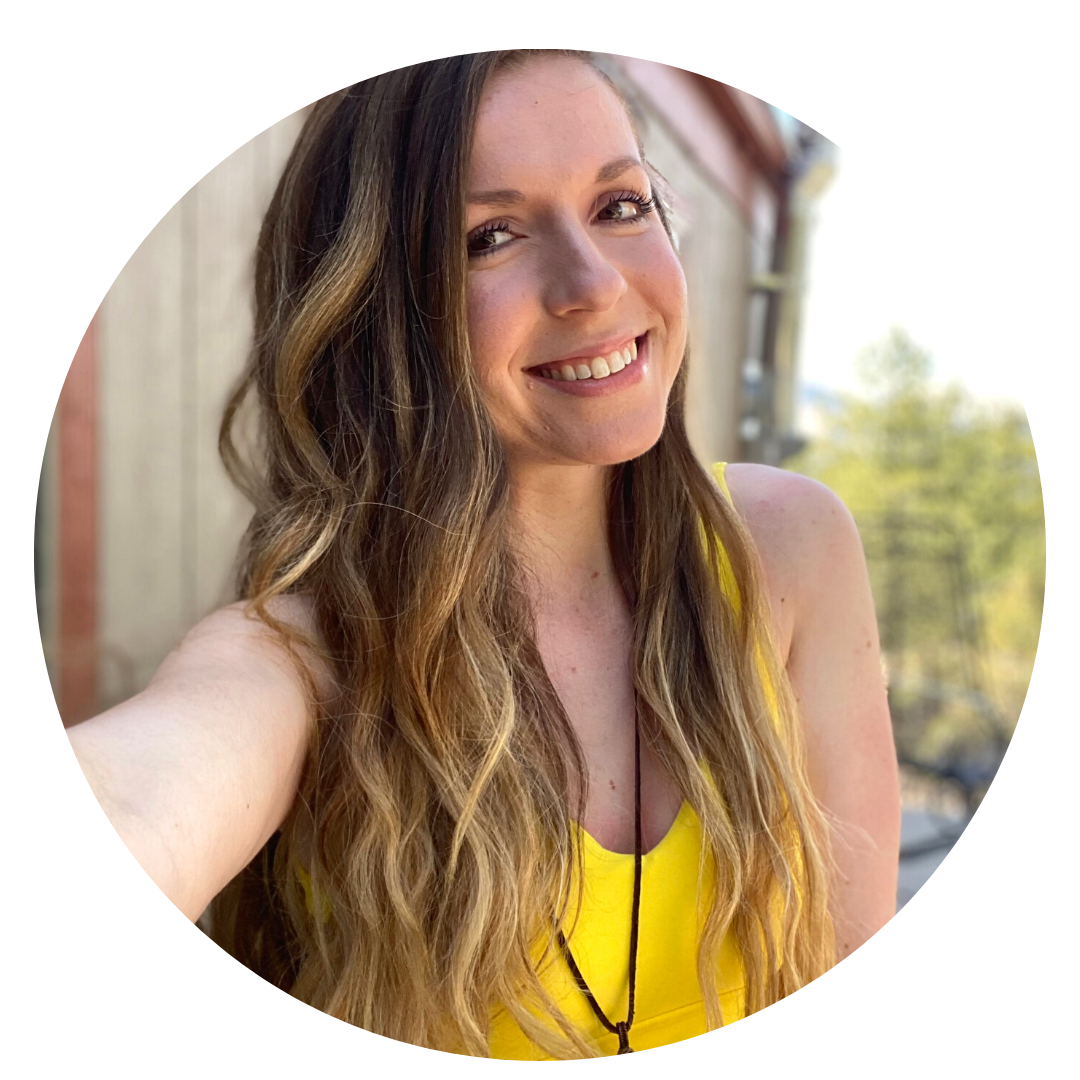 I'm Katie, your Registered Dietitian, Personal Trainer!
I made this course for fitness lovers like you, because back when I started my health journey, I often found myself sucked into restrictive, diet culture b.s. and wondered why the heck my results never seemed to stick around long term. After much trial and error, I learned that freedom and flexibility actually *enhanced* my performance and results vs. hurt them.
And that's how I know YOU need and deserve more than just another quick fix diet.
I can't wait to change your life (and your fitness!) by showing you the fast track to fueling your body using a mindful, non-diet approach!
The Mindful Muscles Academy is a self-paced, online program with the blueprint guaranteed to take you from: strict dieting, food rules, and stress over what you can/can't eat


To...
✦

Consistent results in your fitness goals (strength, energy, endurance & better overall exercise performance!) 




✦

Increased body confidence and confidence around core nutrition concepts & healthy habits




✦

Self-awareness and mindfulness with food; easily reframing unhelpful thoughts around food 




✦

Ability to incorporate fear foods like carbs & treat foods (without feeling out of control)




✦
More energy to do what you love!




✦

Ditching shame, guilt and judgment around food - you can eat all types without feeling like you "wrecked your diet"


Upon enrollment you'll have immediate access to all course content including:
-5 Modules of Video Lessons with your Registered Dietitian
(valued at $1597+)
-Worksheets, Journal Prompts & Cheat Sheets for each module to help you apply what you've learned! (valued at $147)
-Your Personal Goal Setting Guide
(valued at $47)
-Your go-to Flexible Nutrition Guide for creating convenient meals & snacks that fuel your fitness (using foods you enjoy)
-6 Weeks of Fitness-Focused Meal Plans to fuel your workout goals (valued at $197)
-Our Private Facebook Community (priceless!)


A Value of over $1,887 - for only $297!
By the end of this self-paced course, you'll have the skills & knowledge to…


✦

Develop a mindful eating practice that works for you


✦

Make healthier food choices that support your fitness goals


✦ Fuel your workouts & build muscle without diet culture


✦

Practice self-compassion and body acceptance


✦

Create a healthy, balanced relationship with food and fitness




Who is the Mindful Muscles Academy designed for?
Recovered ED Warriors

Yo-yo dieters
Former Restrictive Eaters

Emotional Eaters

Mindless Eaters

Active folks who strength train and want to optimize their workouts without being consumed by diet culture
Anyone who wants to...
Boost body confidence, body image & self-compassion
Find a healthy weight (naturally, without obsessing over it!)
Get in-tune with hunger & fullness cues so mindful eating comes naturally!
Get your time and life back after wasting too much of it on dieting


... and, really anyone who wants to build a life-long, healthy habits & a healthy relationship with food!
This Course may NOT be for:
Those in active recovery for an eating disorder (recovery

always

takes priority!)

Anyone looking for a strict diet or highly structured plan

Anyone who's not quite ready to do the inner work, and do some deep reflecting (it's okay! you are always welcome when you ARE ready!)






"Fitness has always been a passion for Katie, that is why when she became an RDN she immediately deep dove into how to perform better in your exercise through nutrition. The mindful muscles course will be the perfect guide for you to learn how to be in tune with your body's innate needs while hitting your exercise goals"


- Katie W.
(Eating Disorder Dietitian)


"I can't recommend Katie and her Mindful Muscles programming enough; it has been truly a transformative experience." - Carrie M.
"The Mindful Muscles Academy course has been a game-changer for me. I wanted to learn more about mindful eating but in a practical way which is why I took this course. Sometimes I have felt guilty for wanting to look a certain way (aka build muscle and be fit) because sometimes the information that I have learned about mindful eating really focuses on not wanting to change your physical appearance, which is also okay too. I wanted to build muscle and feel good about the skin that I am in, especially during pregnancy. I felt like Katie's program took things to the next level for me!


I was able to establish goals, stick to those goals, have support from Katie and access to the DBN community if I wanted to share any struggles or progress, and really look deep within for what I wanted out of myself and this program. I liked the self-paced aspect of this program. It allowed me to learn and actually apply each module within my busy schedule. I could also go back to each lesson and review info if I felt like I didn't really grasp or apply a concept the way I had intended to. The program also has these awesome exercise sheets for many of the modules so that you can actually practice what you learn.


Katie broke things down in a way that I could understand more complicated topics and there were so many extra resources that were provided that I love. I especially love the meal plans and so many recipes. My favorite recipes were the taquitos and PB&J stuffed dates! MMA is perfect for anyone who is looking to practice mindful eating, wellness, and strength building... and doesn't want things to feel complicated! It's a great program to help manifest and achieve the goals that many of us want for ourselves.


I am so grateful to DBN for creating such a great opportunity that has helped the relationship that I have with food, fitness and the kindness that I show myself."
-Shae M.
Mindful Muscles Academy Member


Course FAQ
✦ What comes with this course?

This course comes with 5 modules full of video lessons around goal setting, mindful eating, gentle nutrition and nutrition for exercise performance. It also includes: 6 weeks worth of flexible meal plans & grocery guides, worksheets and printable journal prompts that help you apply the tips & strategies you learn. When you purchase this course, you also get access to ALL future updates and bonus lessons, plus accountability through our private Facebook Community Group.
✦ How long do I have to access the video lessons in this course?
Forever! This course (and the private MMA Facebook group) is accessible to you for life! You will also get access to all future updates to the course at no extra cost to you.
✦ Will this course help me lose weight?
I'm glad you asked! While this course is not weight loss focused, losing weight is a possible outcome from applying the principles in this course. It depends entirely on your starting point, and whether you may have been meeting your energy needs, under-consuming or over-consuming prior to this course. For example, if you were under fueling prior to the course, weight gain is also possible because you're gaining more muscle mass than before with under-eating.
The purpose of this course is to help you achieve a healthy metabolism, healthy hormones, more energy and better exercise performance. Weight can often be an unhelpful distraction to achieving these things, and can hinder our ability to fully heal our relationship with food. That's why we aim for a more weight neutral approach! So while body composition change can be a natural (secondary) part of your health journey, we teach you it's just not the ONLY focus or priority that we use to measure success from in the program.
✦ Will I be told exactly what to eat/not eat in this course?
This course is NOT a rigid diet, but you WILL have tangible guidelines to help fuel your fitness goals. I'll also help you incorporate mindful eating strategies so everything you learn in the Mindful Muscles Academy is practiced through a gentle lens - meaning, you'll learn to rock your goals without having to obsess over every morsel of food you eat.
✦ What if I have an active eating disorder? Is this course for me?
While this course offers strategies grounded in gentle nutrition and mindful eating - this course is not intended to replace 1:1 support from your eating disorder Dietitian. I recommend prioritizing healing first and foremost before considering enrolling in this course!
✦ Does this course replace 1:1 coaching?
Don't get me wrong, 1:1 support is great! And while it doesn't necessarily replace coaching, it's the next best thing. In many cases it's actually BETTER. To get the most out of 1:1 coaching, you need a bare minimum of 3-6 months, sometimes closer to 1 year to see results. That's anywhere from $750-$3000 dollars - which is just not feasible for many and thus can be a big barrier to getting reliable health information and support.
I created this course to make getting guidance and support from a Registered Dietitian more accessible. With that, the self-guided nature of this course makes it doable for those who struggle with making TIME for 1:1 coaching, but still want to reach their health goals!
✦ Do you have payment plans?
Yes! It's important that this course is accessible to all types of students. We offer an affordable payment plan for this course. If you have any questions - don't hesitate to reach out to me!
✦ Do you offer refunds? 
Because of the digital nature of this course - all purchases are final and NO refunds will be issued for this course. Please make sure this course is a good fit both personally and financially before investing. If you have any questions, please reach out to me before purchasing. 
✦ Where do I go if I have any further questions on this course?
You can email me at [email protected]! 
"There was a point in my life where I felt overwhelmed by diet culture and the mass amount of misinformation out there on the internet. When I found Dark Blue Nutrition, it was more of a blessing than I could have ever imagined. Katie is a well-rounded registered dietitian and certified person trainer. I feel confident that the information that I get from her is accurate as she has the education to back it up"
- Carrie M.
Mindful Muscles Academy Member
The Mindful Muscles Academy Curriculum